Book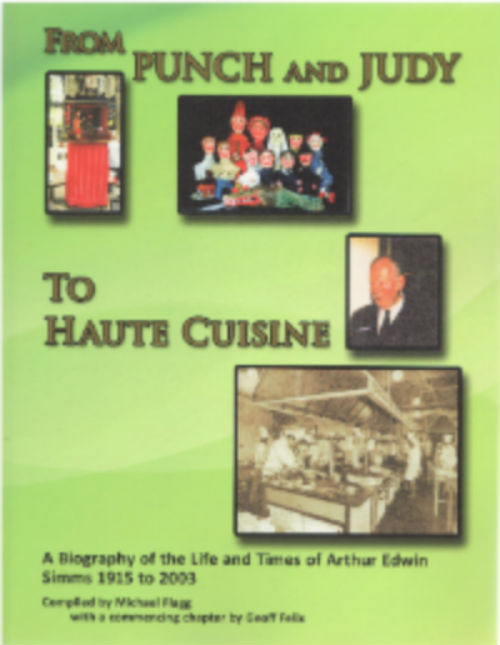 'Punch and Judy to Haute Cuisine'- A Biography on the Life and Times of Arthur Edwin Simms 1915-2003
by Michael Flagg
Recently described as a book suitable for every coffee table and there are currently in May 2013 eight reviews.
Description
Arthur Simms was an amazing and exceptional man. Arthur was a pioneer in UK hospitality education post Second World II. As a young boy he assisted his father 'Quisto,' performing 'Punch and Judy' to the royal children at Buckingham Palace by special warrant from Keith Prowse. It was a conducted trip to the palace kitchens to get an ice cream (unobtainable in the mid-1920s), that gave him the firm conviction to become a chef.
Training at the only centre 'Westminster Technical Institute' London, he gained a first class diploma, before undertaking experience at the Ciros Club Orange Street Piccadilly, well-known during the dance band era and at the Trocadero. A chance meeting with the niece of the French Ambassador, who on his day off became his dancing partner for the 'swing technique' with the Joe Loss Orchestra Tottenham Court Road, also gained him a visa to work in Paris at the Carlton's Hotel near Montmartre, Moulin Rouge and Sacre Coeur.
This opportunity enabled him to meet the 'Chef of Kings and King of Chefs' the famous Auguste Escoffier, at a Paris exhibition. On return to London he worked at the famous Savoy Grill (previously known as Café Parisien), the Grand Hotel Leicester and the Gargoyle Club, owned by David Tennant and Lady Viola Tree in 'demimonde' Soho.
In 1939 and the outbreak of war saw a move to Aldershot, where he was selected as one of eight chef instructors for the newly formed 'Army Catering Corps'. In 1945, as the Head Chef at the Potsdam Conference he was introduced to Stalin, Truman and Churchill.
In 1946 he Arthur became the first Head of Hotel and Catering at Brighton Municipal College and gained membership of the Regional Advisory Council for the first City and Guilds of London Institute qualifications in professional cookery. He was appointed as a judge for the Salon Culinaire Hotelympia International Exhibition, London.
Later in 1952, he was chosen as Head of Hotel and Catering in a new purpose-built wing of Portsmouth Municipal College, which he saw grow from local to international repute.
In 1964 he was seconded for two years as Principal in Hotel and Catering to the new Pusa Institute, New Delhi India and under his leadership its reputation surpassed that of the first centre in Bombay. Arthur retired in 1977 and died in 2003.
He is remembered today by hundreds of former students, colleagues and friends worldwide.
---
 A Second Web Site for this publication is:- http://frompunch.yolasite.com