News and Events 1 Covent Garden Square London 350th Birthday of Mr Punch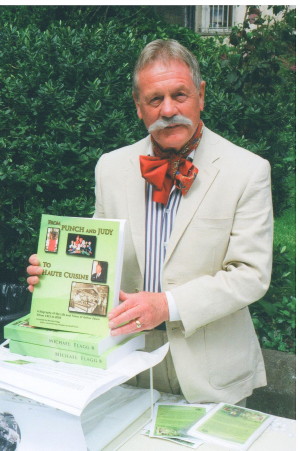 The Author in Covent Garden Market Square London on Sunday
May 13th 2012 for the Punch and Judy Fellowship 350th Birthday celebration of Mr Punch
Chapter 1 of the book is written by Geoff Felix and concerns itself with Arthur's father 'Quisto' a well known ventriloquist in the 1920's and 30's whom Arthur assisted as a young boy, with Punch shows to royal children at Buckingham Palace, by Royal Warrant from Keith Prowse.
The Punch and Judy Fellowship celebrated 350 years of Mr Punch in Covent Garden Square London England, on Sunday May 13th. The author Michael Flagg had books for sale at a special rate on that day.
A copy of the book was donated to the Royal Collection during the Diamond Jubilee of Her Majesty Queen Elizabeth 11, as she was probably one of the royal children present during a performance by Quisto and his son Arthur in 1930.